Ten years ago, Les Gîtes de Kerouzec inaugurated the first eco-gîte in Morbihan at the Métairie Saint-Michel in Quinipily.
On Friday, they will celebrate this decade with a "live Facebook" event for the 10th anniversary of the Gîtes de Kerouzec. 
But what has happened in these 10 years? 
After the opening of La Métairie in Baud, Marie Hervo, originally from Camors, and her husband Geoffrey Caruso, originally from Namur in Belgium, wanted to continue the eco-renovation adventure and offer cocooning stays in the heart of history.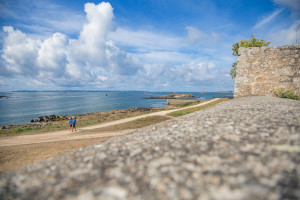 At the beginning of the project, they wanted to have a gîte to welcome family and friends who came from Belgium.
The enthusiasm of their Belgian and Breton relatives and the enthusiastic feedback from their guests led them to open three other gîtes. 
Two of them are located in the heart of the Port-Louisian city and the fourth one in the historical centre of Vannes. 
All the gîtes have in common that they are located in historic areas that are listed.
Marie and Geoffrey love the old stones and have a heart to emphasize them thanks to eco-renovations. 
Everything is designed to give guests a change of scenery and to disconnect them from everyday life.
The eco-renovations contribute greatly to this. In all the gîtes, the beautiful Breton granite is present. Natural materials are omnipresent. And to offer a total change of scenery to the guests, Marie and Geoffrey advise their favourites for sustainable tourism. The emphasis is on local producers, restaurants and activities that highlight the local heritage and culture. 

If we ask them the question, what are your favourites?
They answer "The Père Nicolas walk, the beach at Port-Louis along the citadel, walking on the Conleau peninsula, the Côte Sauvage, but also the magnificent forest of Camors where Marie spent her childhood".
On Friday, during the online event, several hosts will share their experiences, their favourites and what makes a stay at the Gîtes de Kerouzec unique. 
Would you like to participate? 
Just log on to the Gîtes de Kerouzec Facebook page, @gitesdekerouzec. 
The appointment is given at 8 pm for a live from the USA.
Yes, Marie and Geoffrey are currently in the USA. But no matter, they have managed to organise an event that will delight Brittany lovers. 
Everyone is welcome.
Practical information  10 Years Gites de Kerouzec 
Join the online event for the 10th anniversary of the Gîtes de Kerouzec
Friday 28th October
8pm on Facebook
Facebook page @gitesdekerouzec
Free registration ... With your good mood 
To find out more about the Gîtes de Kerouzec : 
Facebook and Instagram: @gitesdekerouzec